calesia
Illustrator
For business inquiries, please email me or DM me on Twitter.
---
Commissions
STATUS: OPEN (2 Slots Available)
10% off Base Price
for Fire Emblem, Genshin Impact, and Chainsaw Man
---
Commission Order Form
Please fill out this form (CLICK HERE) to request a commission! I'll respond as soon as I can with any questions I might have or to move onto providing a quote. You can also directly e-mail the information from the form to me at [email protected] or DM me on twitter (@Calesia_) if that's easier!

If you have any questions at all, feel free to DM/e-mail me first!
---
Types of Commissions
I'm open to doing all sorts of commissions, including but not limited to original or fan art humans and humanoids. Soft NSFW and slight to moderate gore are okay!

I'm currently not open to creating mecha, furry art, highly fetishized art, heavy gore, or political art.

If you're unsure if I'd be open to your commission request, feel free to ask via my DMs!

All commissions come with a one-color background of your choice or transparency.

I reserve the right to decline a commission for any reason, even if I've previously created similar art.
---
Types
Bust: $75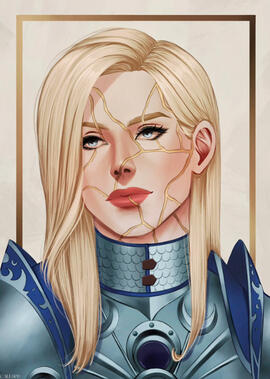 1/2 Body: $100
3/4 Body: $125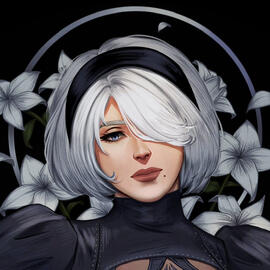 Full Body: $160
Simple Headshot*
$45
Type A - Floating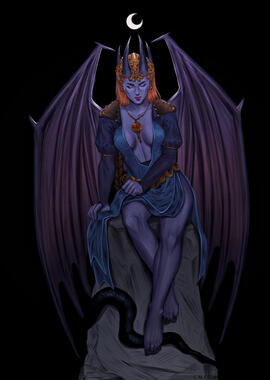 Type B - Anchored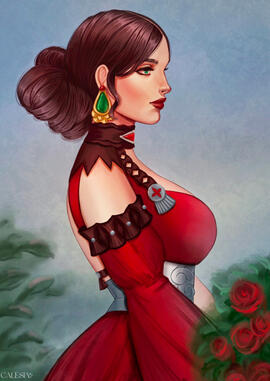 *This tier is not eligible for add-ons, major revisions, or a sketch approval. Pose will be determined by me if reference is not provided.
---
Add-Ons
| Type | Busts | 1/2 Body - Full Body |
| --- | --- | --- |
| Additional Characters: | 75% of Base Price | 75% of Base Price |
| Simple Background: | +$20 | +$40 |
| Full Background: | +$30 | +$75 |
Background Types:
Simple: Accent details/framing or simple lighting + simple environment)
Full: Complex lighting + detailed landscapes, environments, architecture, etc

These amounts are MINIMUMS and may be subject to increases depending on complexity.

This is not an exclusive list -- I reserve the right to increase the price accordingly if the request is highly complex in other ways (e.g. intricate jewelry* , many props, complex clothing*, etc.) or if you are requesting a rush order.

* Certain Genshin Impact characters in their canon outfits will likely automatically incur an additional charge due to their complex design.
---
PROCESS
FIRST CONTACT:
Discussion of the commission you'd like to request. We'll go back and forth in this step until we're both happy with the details of the commission and the price. I'll also answer any and all questions you have!

PAYMENT:
Payment will be made via Stripe in one full installment prior to starting the commission. I'll send you an invoice once we have confirmed the commission.

SKETCH APPROVAL:
(Not applicable for headshot commissions.)
Once the initial sketch is created, I'll send you a copy for your approval. We'll go back and forth in this stage until you're happy with the sketch.

Any changes made after the sketch is approved may be subject to additional charges unless it was due to a misunderstanding on my end.

WORK-IN-PROGRESS:
I'll continue working on your piece until it's complete. You can request WIP images at any point. I may periodically provide WIP images to confirm colors or other details as necessary.

COMPLETION:
By default, I'll send you a JPG file, if no other image type is requested.

Aaaaand that's it!! Tips will NEVER be expected, but would definitely be appreciated!
---
Terms of Service
By purchasing a commission from me (the artist) you agree to be purchasing my services only. If you have a problem with any of the below conditions, they may be changed if discussed with me prior to paying for your commissioned piece.

Please read the terms carefully:

I, Calesia (the artist):

-- reserve the right to cancel and refund the order at any time for any reason.
-- retain all copyrights over the commissioned artwork.
-- will NOT claim the intellectual property (IP) of the commissioned artwork, if it is an original character commission.
-- will NOT profit further from the commissioned artwork unless you (the customer) break any of the terms, if it is an original character commission.
-- reserve the right to post the commissioned artwork online, in my portfolio as well as in publications such as art books, unless notified otherwise.
-- reserve the right to sell the commissioned artwork, if it is a fanart commission.

You (the customer/commissioner):

-- may upload the commissioned artwork on any website and social channels.
-- may NOT make profits from the commissioned piece (reselling, redistributing, uploading to POD-services, make prints, etc.)
-- may NOT alter the commissioned artwork without my (the artist's) consent.
-- retain the rights to the intellectual property (IP), if it is an original character commission.
-- may NOT use the commissioned artwork for commercial purposes. The license to the commissioned artwork may be purchased separately at any point - contact me for info.
© Calesia. All rights reserved.